The term 'influence' has different meanings for different people. For some, it becomes an objective and for others, it is nothing but a result of their learning, doing, and sharing. People holding the former view would find it very tough to last in this competitive market and be an inspiration for others while those that think that it is a process will be as successful as they want to be. It is very important to realize that success is a process that needs efforts and endeavour on the part of the participants. Influence happens when sharing empowers, inspires, nurtures, and assists others. This is what true HR influencers are all about.
HR influencers don't force anything on the people who follow them. They make those people want to change the way they think, behave, or act. HR leaders lead by example and show other HR professionals the right way of doing things and not giving in to setbacks, nerves, and other anomalies associated with human behavior. An influence is a passive activity. There could be people who do not want to be influenced. But that is a conscious choice we all make.
You might also be interested to read: 4 Types of Human Resources Leaders
So who are those HR influencers that everybody wants to follow? Here is a list of top HR influencers that features the names of the cream of the crop when it comes to human resource management leaders and influencers in India. These names were mentioned in SHRM's "HR Influencer Report 2019" that was released last year.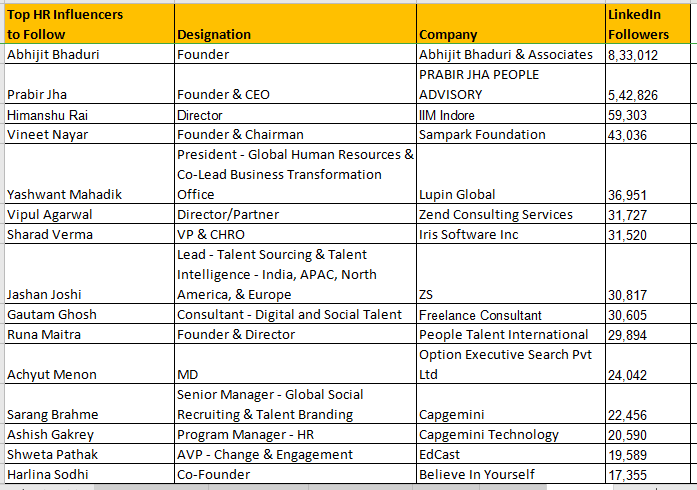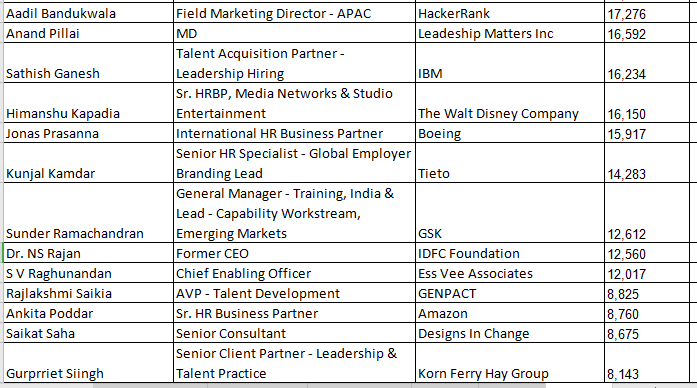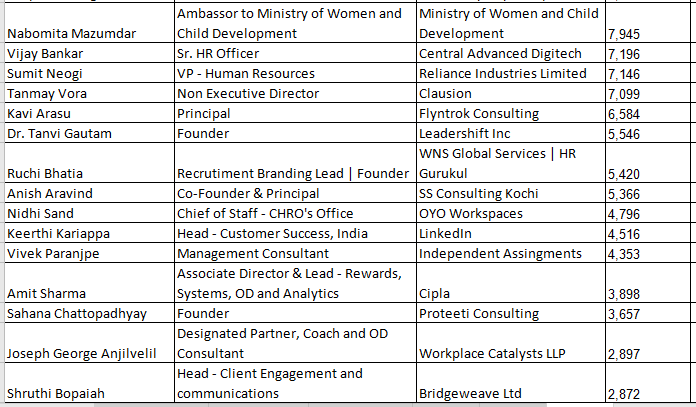 So what makes these top HR influencers different from other HR thought leaders? There is indeed a marked difference. No wonder they inspire thousands of people to better versions of themselves not only on the professional level but also at the personal level.
The first thing that needs to be done is defining an audience who want to become influencers, want to talk to and interact with. The target audience could be a larger group that include LinkedIn or Twitter followers, or a smaller group that includes people in a company. The following or audience can even be customers or clients. This is the first step. The other characteristics are mentioned below:
Experience: The first quality that differentiates the best from the rest is experience. To understand the industry inside out, one needs to be there and do the usual tasks that are associated with an HR professional. First-hand experience paves the way for a successful career ahead. And it would not be wise to mistake experience with the number of years spent in a particular position, doing a specific kind of work. There are so many people who spend their lifetime working in the same position but they cannot be called influencers as they have not shown the urge and enthusiasm to progress in their professional lives. Real experience is when you learn what is to learn in a particular position faster than others, and then display the zest and grit to grow.
Credibility: Credibility is the start of the journey as an HR influencer. People only follow those who they think are credible. What does that actually mean? They need to have experienced the stories, the events, the failures, and everything else that they are sharing with their audience. So an HR influencer should know what exactly it is to be an HR professional before they start sharing stories to inspire others. Unless you are a celebrity, you need to have been actively involved as an HR professional or manager at some point in your life for anyone to take you seriously. Credibility also depends on the content that influencers share with their audience. If they are reaching out to a larger audience, for instance on social media, they can share speeches, blog posts, webinars, and white papers to build credibility.
Consistency: HR influencers that are trying to establish a point of view in front their audience needs to be consistent in delivering their message. There may be occasions when there is no need to repeat an idea; however, to make others continue delivering that message on the behalf of influencers, they need to ensure that they constantly share their point of view and maintain a level of consistency when it comes to delivering the message that they want others to propagate.
You might also be interested to read: 6 Leadership Development Traits
An audience: It is difficult to imagine an HR influencer without an audience or a following. These are the people who make influencers who they are. But creating a following and maintaining it for a longer period of time requires a lot of effort and time. An influencer is nothing without the audience they write for and deliver messages to. Social media is the perfect tool to establish a following, an audience that an HR leader wants to influence. LinkedIn and Twitter are the two best platforms for reaching out to people, sharing experiences and stories, and putting across an idea or message that they can relate to. Social media is not only a tool to connect with people, it is also a tool for inspiring others, and helping them follow the same path as the Influencers in HR.
HR influencers, however, are defined by the individual. Everyone of us has different influencers, not necessarily that the same influencer can influence two individuals in the same way. But it is important to follow an HR influencer because of the knowledge and learning we gain from their experiences and examples. It amplifies our chance to succeed.
References:
"SHRM – Top 50 Indian HR Influencers on Social Media" by Vijay Bankar on 29th May 2019
"What Makes For a Great HR Influencer?" by Jessica Miller-Merrell on 22nd October 2014
Related Topics: