With the rising sensation on the most coveted implementation of the new Labour Codes by July, 2022, appears to be a mere onset of a predicament in the domain of Labour law. An update on the prospective implementation of the proposed Labour Codes was duly published and reported by DNA on the 9th June, 2022, depicting the near concern of the Central Government to effectuate its implementation with effect from 1st July, 2022, however the fact that, still six states have not yet even framed the respective Draft Rules, continues to ignite the rapid sensation.
Though, it is significant to comprehend and deduce that, as of yet, a total of 21 states have drafted, notified and published all the 4 Draft Rules on Labour Codes, inferring an imperative rise in the number of states of its intention to effectuate at the earliest. On the contrary, states / UT's like West Bengal, Nagaland, Meghalaya, Lakshadweep, Dadra and Nagar Haveli and Daman and Diu, are on the lag behind the implementation of all 4 Draft Rules.
To impart clarity on the same, a summary of the state wise draft rules is cited below for quick reference: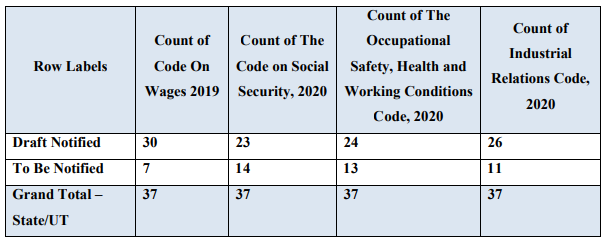 It is also important to note that, the Central Government shall notify the Draft Central Rules in respect of all the 4 Labour Codes before the States notifies on the Draft State Rules. (Exception: The state of Gujarat having already notified and published the Gujarat Wages Rules, 2019).

Nevertheless, the Association of Employers and some of the unions are of the opinion that, the said Codes, shall be implemented in a phased manner, wherein the Central Government hasn't yet provided a clarity on the same.
TeamLease views on the implementation of Labour Codes
Since, few states and Union Territories are yet to notify their respective rules on the four Labour Codes, the implementation of the said Codes, may defer to upcoming months or may not be implemented in the month July, 2022. However, we are of the view that, the Central Government may notify the same at least 2 months prior on the date of implementation of Labour Codes, considering the extensive process involved and the proposed new changes under compliance. Thus, this being our sole interpretation.
However, the actual impact of the Labour Codes on the Employers / Industries will become apparent only when it is effectuated and brought into force but, it is imperative for all the Employers / Industries to review the Salary Structure based on the Code on Wages, get ready to comply with compliance related to other three Labour Codes and ready to align their HR policies in line with the Labour Codes.
Source: TeamLease HRtech, Digitalising Employee Experience.
You might also be interested to read: Monthly Compliance Roundup May 2022